What Others Are Saying About "Beyond Creation"
"Whenever things have gotten tense or stressful during the last few weeks, I just turn on Jarrad's Release Everything or Creating Your Ideal Relationship MP3's on a loop. I go back to a dreamy and calm place. One night it was snowing and I sit and work near a window. I played those MP3's and the night was MAGICAL!"
Debbie
"I felt an immediate release of anger, fear and confusion the very first time I listened! I have continued to find clarity, raise my vibration, and enjoy life again with their meditations and recordings. Thank You for showing me the way up!"
Lynette
California
"First of all I want to say thank you! And then WOW. My biggest breakthrough was to be free of fibromyalgia and to go to my Dr. and get off the medication for it… I am raising my vibration and learning to trust the universe and loving myself. The feeling of love in my chest is so beautiful. I love and thank you so much."
Johnna
"I am truly amazed that the last vestiges of grief I've been carrying for 42 years from the sudden death of my young husband disappeared while listening... I am in such gratitude to Jarrad for his gift, and willingness to devote his life to assisting others to be free of these energies."
Mary Neal
"Trust me it will be the greatest investment you can make for yourself and for those you love around you. Your life can be all you want it to be - I'm experiencing this myself first hand because of this program - and I know you can too!"
Melissa
"This program has been amazing. It is hard to describe in words the ways it is changing me. The energy is powerful beyond anything I have experienced and it is so loving and supportive."
Amy
13 ITEMS, PLUS 2 BONUSES, FOR EMBRACING YOUR POWER
"Eliminating Genetic Beliefs"
Available as MP3 Download (Retail Value $65)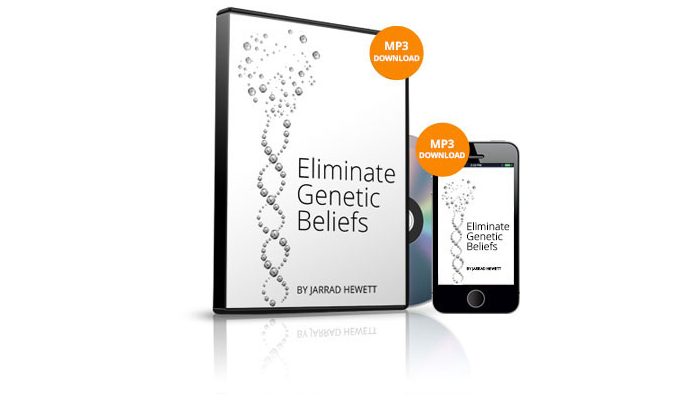 Through 70 minutes of guided healing, Jarrad invites you to clear all limitations, templates and belief systems that may have been holding you back for years.
Imagine being able to overcome all barriers and use Jarrad's formula to create EXACTLY what you desire.
Now you have the tools to rid yourself of any and all limitations and direct your energy at every level to restore your pure, Divine, fullness and love.
"Meeting Your Source Self" Re-Encoding Activation
Available as MP3 Download (Retail Value $75)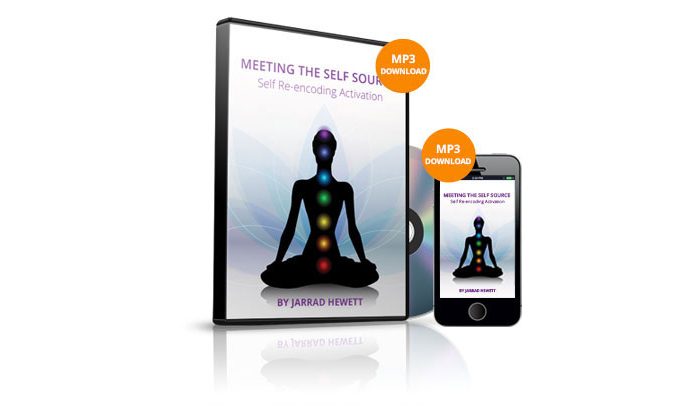 This BRAND NEW guided meditation was created just for you.
This incredible journey encodes every level of being with expansive energy, helping you unlock your power and abilities to truly know your Self in all places, spaces, and times.
This is not a one-time experience – you can use it over and over again to go deeper, expand wider and transform to new, miraculous levels. It even took Jarrad on a new powerful meditative journey!
"Release Everything"
Available as MP3 Download (Retail Value $45)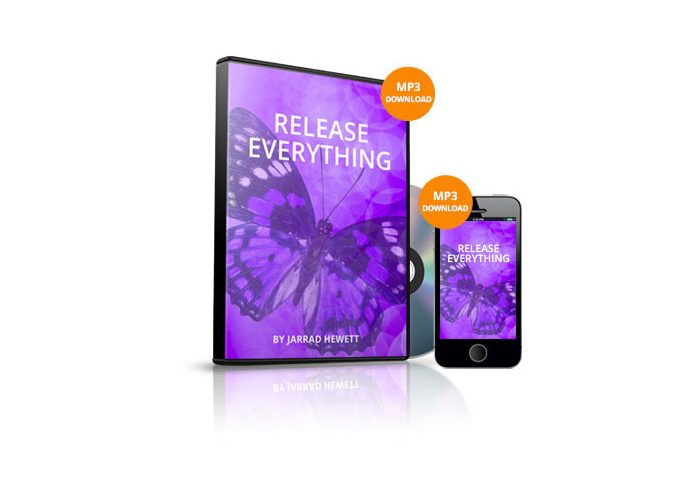 This is the most popular and expansive journey that Jarrad has ever offered!
With the power of brain entrainment technology added to the audio of every energy journey, this amazing 20-minute healing and meditative session is set to music and layered with some of the most potent and POWERFUL energy Jarrad has ever channeled.
Wherever you get stuck, Whatever holds you back, Learn to Release it, NOW!
These Amazing Energy Journeys mark a powerful new advance in Jarrad's work and are being offered for the FIRST TIME EVER, right here.
MILD CAUTION: You may experience a gentle energetic or emotional release which is helpful in accelerating and deepening your capacity for lasting, positive change. Because of the very high frequencies present in this track, Jarrad does not recommend listening any more than twice a day.
"The Prayer Of Empowerment"
Available as MP3 Download (Retail Value $65)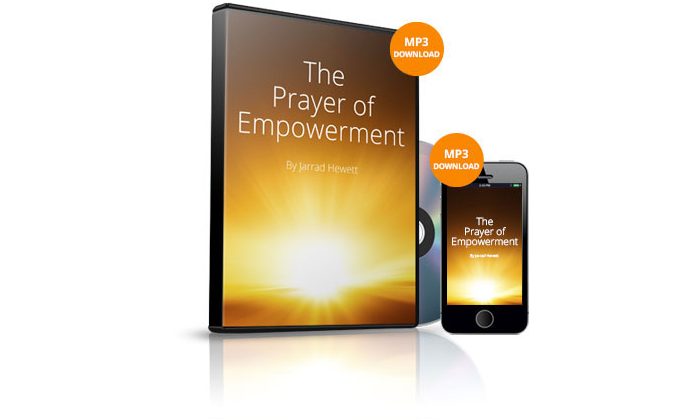 Whatever your belief system, this guided journey takes you directly into the energy of Empowerment and Self Actualization.
This mastery work gently guides you into a space of total knowing on all levels, inviting you to embrace all the keys to creation.
The Prayer of Empowerment was specifically designed to help you expand in total authenticity as well as to allow you to receive on ALL LEVELS… and you're going to do so by settling into the energetic embrace of love.
"I Am Abundance, Now!"
Available as MP3 Download (Retail Value $45)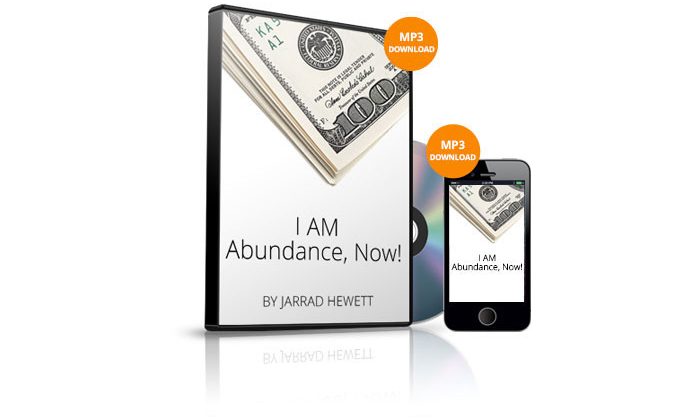 This 22-minute journey into abundance helps you unlock the secrets of instant manifestation, springboarding you into a greater understanding of energy and unity with the abundant Self you truly are.
Imagine a life where you exist as a vibrational magnet for money.
This simple to follow process doesn't just teach you to magnetize money and live in abundance, it holds the quantum secrets to bending time and bridging consciousness.
Jump-start the creation process and super-charge your abundance RIGHT NOW.
"Love, Life, God: The Journey of Creation" Audio Book
Available as MP3 Download (Retail Value $45)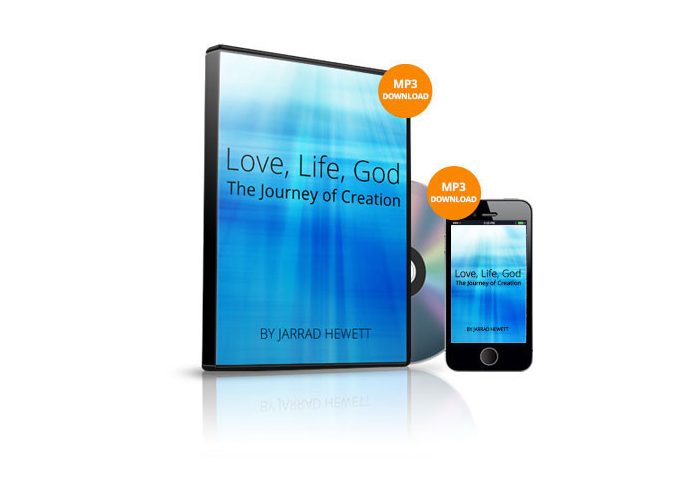 One of the most powerful and brilliant messages you'll ever hear, this special-frequency-encoded audio of Jarrad's international best-seller contains some of the highest frequencies you can experience.
The text itself provides an awe-inspiring view of God, consciousness, and what it means to be alive. It powerfully demonstrates the full potential of love and conscious creatorship in ways that will astonish, inspire, and leave you breathlessly moved.
Know how to operate from the center of your being, creating from your heart and dive into healing within a fractured culture. Discover how to literally change the world by changing the Self.
Coded with massively expansive frequencies, this special audio version is like having your own personal energy library to visit over and over again.
EXCLUSIVE: "Evolution Of My Soul - Receiving All My Good"
Available as MP3 Download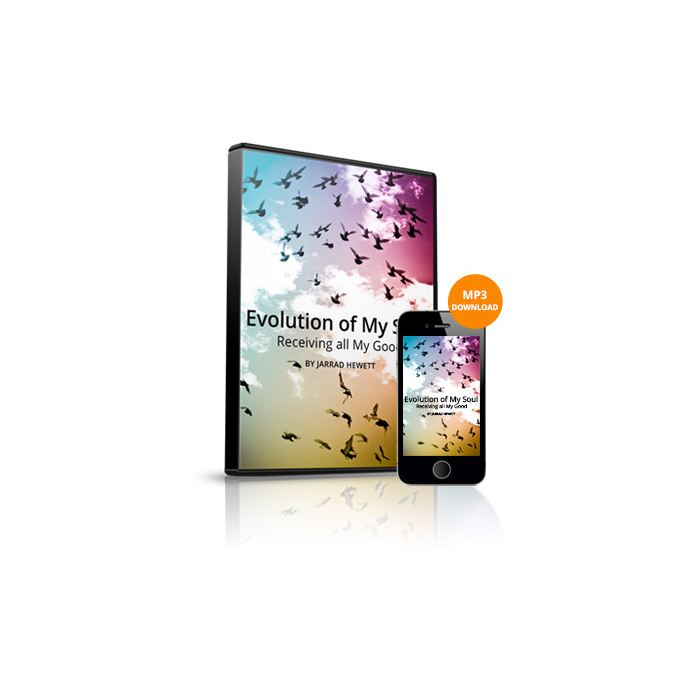 Jarrad's newest track is loaded with some of the most inspirational and uplifting frequencies on the planet.
Explore the frequencies of:
Forgiveness and so much more!
This is Jarrad's personal go-to track! And after one listen, it'll be yours too!
Coded with massively expansive frequencies, this special audio version is like having your own personal energy library to visit over and over again.
What Others Are Saying About "Beyond Creation"
"Thank you sooooooooooooo... much Jarrad, I've been listening to all the tracks, blissing-out and feeling buzzed! Yeah, what a great way to start the new year!"
Zoie
"Thank you so much for these beautiful and powerful Divine tracks - I am beginning to feel my true essence ... I am infinitely grateful."
Sylvia
"Jarrad takes us on a journey to understand the how and why of life and in the process delivers a beautiful portrayal of love and creation. Lovely and heart-opening!"
Jennifer McLean
SPECIAL OFFER
13 ITEMS & 2 BONUSES FOR EMBRACING YOUR POWER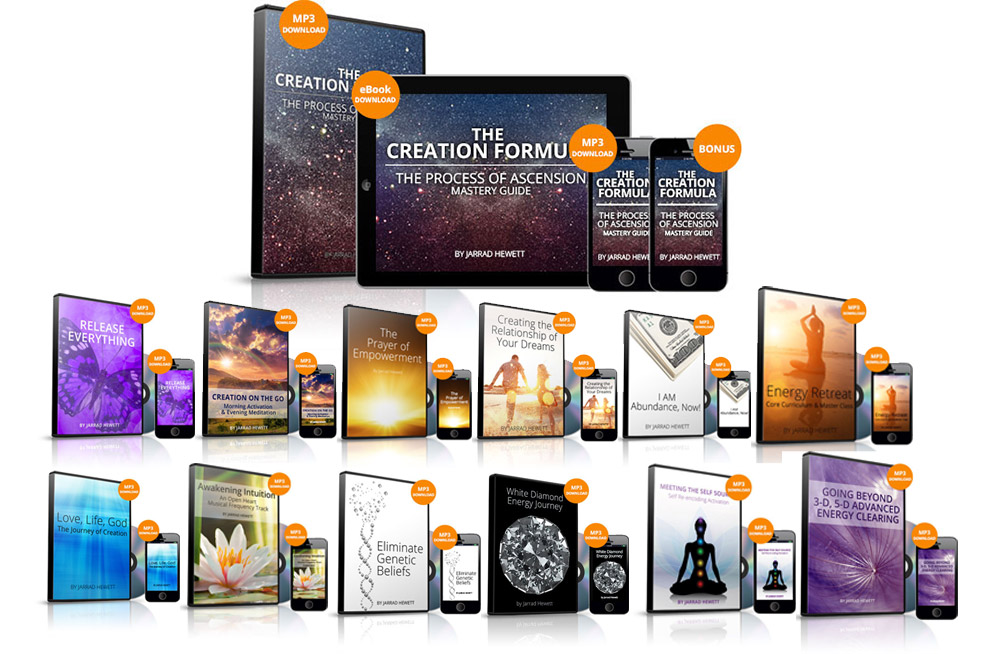 SAVE 75% (Normal Price: $769)
DIGITAL: $197

MILD CAUTION: The Energy In These Tracks Are EXTREMELY POTENT
Please use caution when listening and DO NOT use motor vehicles or operate heavy machinery while listening. Listen to your body, and make sure to stay hydrated. Water is a conductive element, and as you raise your vibration, you may notice yourself dehydrating. Jarrad does not recommend listening to these tracks more than once in the first twenty four hours. Give yourself time to integrate the energies and see how your body responds. Over time, as your frequency raises, you will be able to hold more and more of the vibration and listen as often as you'd like.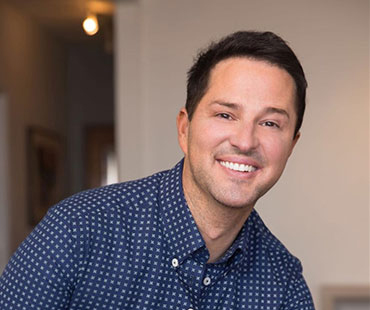 About Jarrad Hewett
Jarrad Hewett is the Best-Selling Author of Love, Life, God: The Journey of Creation as well as the co-author of the International #1 Best-Selling The Big E - Everything is Energy: Unleashing The Power of Everyday Wisdom. His new book, The Gospel of You: The Truth About God, Religion, and Who You Really Are is available now.
Jarrad's in-depth energy work has lead to 3 Best-Selling books, regular radio show appearances, and a devoted client list featuring some of the biggest and most well-known names in the Self Help and Spiritual Movements.
The information provided through and its guests is not offered as medical advice and should not be considered medical advice. Nothing contained on this page or during this series is intended to be used for medical diagnosis or treatment, and is not intended to replace a one-on-one relationship with a qualified health care professional. Always seek the advice of a physician or other qualified health care professional regarding any mental or physical health condition or treatment.